Sweeping out the old and opening to the new: The studio doorway on Midsummer's Day.
"Then followed that beautiful season... Summer....
Filled was the air with a dreamy and magical light; and the landscape
Lay as if new created in all the freshness of childhood."
-- Henry Wadsworth Longfellow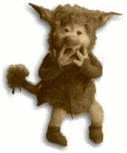 Sneezlewort Rootmuster Rowanberry Boggs the Seventh,
a Dartmoor root faery from A Midsummer Night's Faery Tale.
You can read an interview with young Sneezle himself
on the Greenman Review site here.
Tilly in the studio garden on a blustery Midsummer's Day.